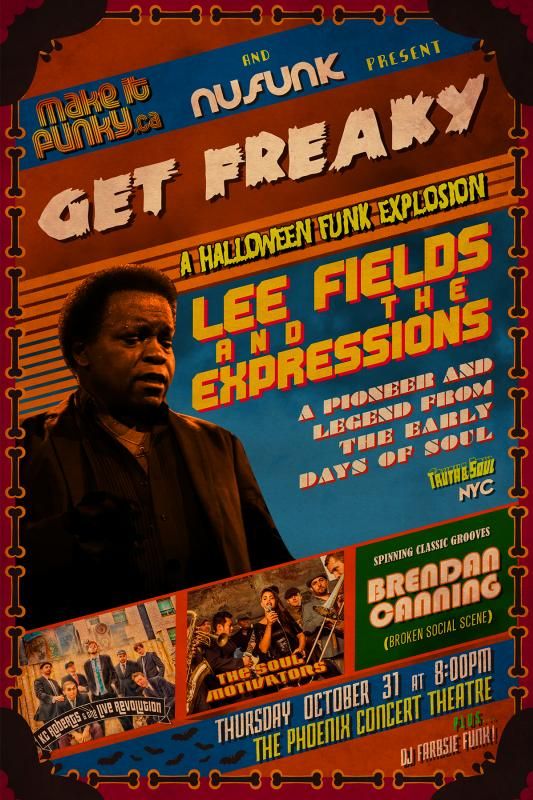 www.Nufunk.ca & www.MakeitFunky.ca Present
Thursday, October 31st, 2013
Get Freaky: Halloween Funk Bash
featuring:
Lee Fields & The Expressions
w/ KC Roberts & The Live Revolution, Soul Motivators plus DJs Farbsie Funk plus Brendan Canning of Broken Social Scene and so much more!
The Phoenix Concert Theatre – 410 Sherbourne St
Tickets Available at
Play De Record, Kops Records, Soundscapes, Rotate This
Online Tickets: http://tktwb.tw/Gzvbgj
Facebook: http://on.fb.me/1fNsmW2
One of the leading voices in the resurgence of soul & funk, Lee Fields been spreading his musical gospel for over 4 decades. His international fame was solidified when the Brooklyn based Daptone Record Label and musical family helped Lee reinvent himself as the new voice of soul with the release numerous singles on Daptone Records and of two acclaimed album "My World'" (2009) & "Faithful Man" (2012) on Truth & Soul Records imprint. The revival of old-school funk and soul sounds continues on the streets of Toronto, inspired by Lee Fields, Sharon Jones & Charles Bradley, with two strong local bands KC Roberts & The Live Revolution and Soul Motivators and who joined by Farbsie Funk and special guests DJ Brendan Canning from Toronto's Broken Social Scene spinning classic grooves.
Lee Fields & The Expressions
http://leefieldsandtheexp ressions.com/
There aren't too many artists making soul music today who had a release in 1969, back when R&B was first beginning to give the drummer some. Lee Fields, however, is one such artist–or maybe he's better labeled a phenomenon. Since the late sixties, the North Carolina native has amassed a prolific catalog of albums and has toured and played with such legends as Kool and the Gang, Sammy Gordon and the Hip-Huggers, O.V Wright, Darrell Banks, and Little Royal. With a career spanning 43 years, releases on twelve different record labels, and having toured the world over with his raucous-yet-tender voice, it's mind-blowing that the music he's making today with Brooklyn's own Truth & Soul Records is the best of his career.
With a catalogue that ranges from James Brown-style funk to lo-fi blues to contemporary Southern soul to collaborations with French house DJ/producer Martin Solveig, Lee Fields has done it all. Today, with The Expressions–Truth & Soul's house band, Lee Fields continues to evolve, enmeshed into the group's sweeping, string-laden, cinematic soul sound. Their first full-length together, My World, released in June 2009 on Truth & Soul, was called "one smoking mother of an old-sound soul record" and a "throwback done right" by Pitchfork.
While drawing comparisons to groups like The Moments, The Delfonics, The Stylistics, and–of course–James Brown,My World has been able to create a space of it's own due to the group's desire to interpret and further the formulas of good soul music rather then parrot and imitate them. Chalk that up to Truth & Soul producers and co-owners Jeff Silverman and Leon Michels, as well as the high level of musicianship of everyone involved. These are the same individuals that wrote, produced, and played on Aloe Blacc's global smash hit LP Good Things for Stones Throw Records, and have provided the back drop for records by El Michels Affair, Adele, Liam Bailey, Ghostface Killah, and Jay-Z to name a few.
"In a curious case of musical evolution, the older Fields becomes, the closer he gets to perfecting the sound of soul that he grew up with as a young man," so said music writer, scholar, and DJ Oliver Wang about Fields in a piece for NPR in July 2009. The latest LP from Lee Fields and The Expressions, titled Faithful Man, is the next step towards this perfection. A step that may find Fields, The Expressions, and Truth & Soul as a label, finally being bestowed the contemporary soul music crown.
Lee Fields releases Let's Talk It Over
A Reissue of Lee's 1979 first full length album
Lee Fields released his very first full-length LP in 1979 entitled, "Let's Talk It Over". It featured his most successful song of the era, "She's a Lovemaker", which was at one time licensed and promoted by London Records. Mint copies of "Let's Talk it Over", which was self released by Mr. Fields and mostly sold at shows and out the back of his car, can fetch four digit numbers on eBay. Even the bootleg version from the early nineties sells for up to four hundred dollars. Truth & Soul is proud to present the deluxe re-issue of Lee Fields' "holy grail" album, "Let's Talk it Over". The CD and double LP also features songs from his singles catalogue including "Funky Screw", "We Fought For Survival", "Bewildered", "Meet Me Tonight", "The Bull Is Coming", "Everybody's Gonna Give Their Thing Away", and many more. The deluxe re-issue is also repackaged with a new cover and never-before-seen photos of Lee Fields.
Listen to the lead single "Let's Talk it Over" on Youtube;
http://www.youtube.com/watch?v=QnmLkQOgLnU
Recently used in Suits episode 14 season 2
KC Roberts & The Live Revolution
http://www.kcroberts.ca/
http://vimeo.com/73058712
KC ROBERTS & THE LIVE REVOLUTION (KCLR) are proud purveyors of beautiful vintage music (funk, jazz, rock), with an artistic obligation to shift all that's sacredly funky and soulful into the current phase of popular music (hip-hop, house, electronic, Drum n' Bass). Essentially an original 7-piece funk band, KCLR is well-known for its energized live performances winning the 2007 Toronto Independent Music Award for best live act. torontomusicscene.ca writes, "Their live shows are absolutely mind-blowing; the band is something entirely unique and influenced by atypical genres." Matt Bauer of Exclaim! Magazine writes, "If one needed proof of the vitality and authenticity of new Canadian funk music, they need look no further."
KCLR's third LP is a live-off-the-floor recording called Between the Cracks and was released on June 27, 2012 (see BTC for more info). In November of 2011, KCLR launched the Parkdale Funk 2 Initiative, a crowdfunding project for their upcoming double LP, Parkdale Funk 2 (SIDES), also known as PDF2. The initiative raised over $26,000 for the recording, mixing, mastering and manufacturing processes, more than three times the budget for KCLR's two previous records combined. The success of the initiative was bolstered by a series of YouTube cover videos, which have amassed more than 100,000 views since November 2011.
Formed in 2004, KCLR have enjoyed consistent success both on stage and in the studio. In 2005, the band placed in the top 5 in Chartattack.com's North by Northeast report card reviews. Later that year they opened for the Black Eyed Peas at Molson Amphitheatre, making such an impact that they were invited back in 2006. Since then, KC Roberts and the Live Revolution have established themselves as a high-energy live act and have become mainstays at large festivals including the TD Toronto Jazz Festival (2012), JUNOfest (2011), Distillery Jazz Festival (2007), Beaches Jazz Festival (2007, 2009-2012), Aurora Jazz Festival (2012), Sudbury Jazz Festival (2012) and Wasaga Beachfest (2009) among others.
The Soul Motivators
www.soulmotivators.com
Spread the word – The Soul Motivators are here to restore your faith in funk. This tight 9-piece ensemble digs deep, mines a rare groove and elevates your soul. If you're not nodding your head by the bar, you'll be motivated straight to the dance floor by a visceral live experience.
Imagine a movin', groovin' record collection packed with funk nuggets – these guys hold the likes of James Brown and his associated acts in high regard, that's for sure. But stay tuned and you'll hear Fela and Budos inspired afro-funk and a wealth of classic hip-hop breaks. Chanking guitar riffs, crisp horns and a screaming B3 will recall 70s car chases, Blaxploitation soundtracks and the roots of acid jazz. Their explosive live show has moved crowds at theatres, clubs and festivals across Canada. A melting pot of influences has meant that these soul brothers – and sister – have been selected to open for acts
across the spectrum such as Orgone, Escort, Lee Fields and Afrika Bambaataa.
The Motivational sound has caught the attention of CBC Radio. Debut single "Gravy Train" received regular rotation and follow-up "Until The Sun Goes Down" was aired exclusively as Song of The Week on Radio 1's Here and Now show.
So are you ready? Then get up, get into it and get involved – let yourself be Motivated!
About the Promoters:
www.nufunk.ca

NuFunk Concerts is a Toronto and NYC based concert and festival production company. Specializing in online marketing, Nufunk works behind the scenes with Canada's top promoters as well as producing their own events including the Toronto NuJazz Festival.
Make it Funky is Toronto's funky breakbeat parties series, who have for the past 8 years brought the most progressive breakbeat, turntablism and innovative artists to Toronto.