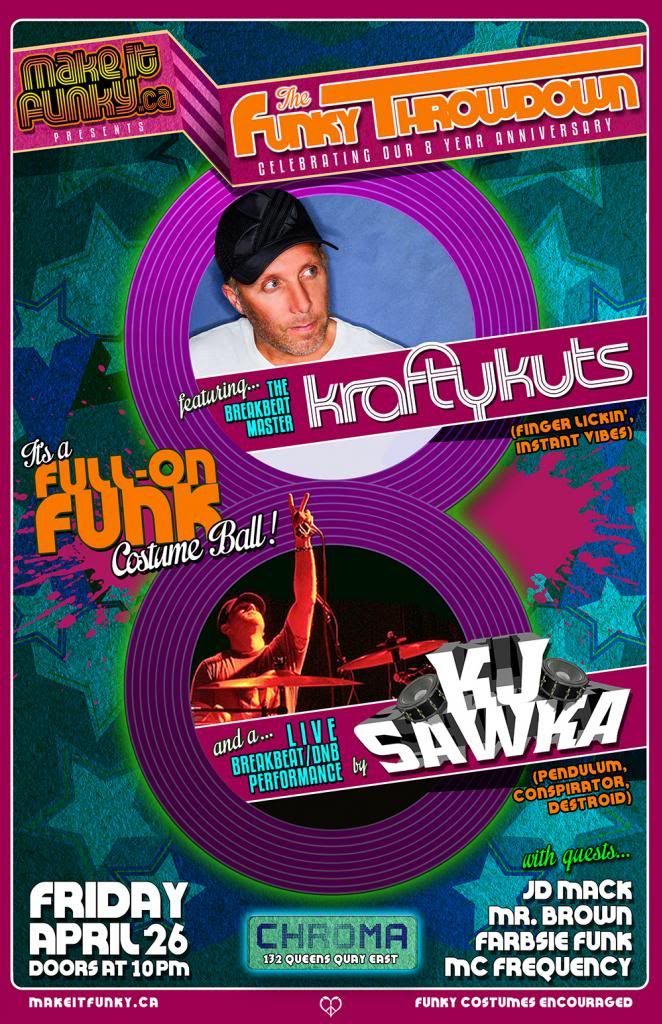 Friday April 26, 2013
Make It Funky presents
Our 8 Year Anniversary
The Funky Throwdown
A full on funky costume ball
DOOR PRIZES T-SHIRTS, FREE MIXES, FREE TRACKS FOR THOSE IN THE BEST FUNKY COSTUMES
Facebook Link: http://on.fb.me/Yv1bHI
Krafty Kuts (Finger Lickin', Instant Vibes)
Multi- award winning DJ Krafty Kuts is the hands down King of Breakbeats. His electrifying sets spanning breaks, electro, dnb, and hiphop represent mashup in its truest form never failing to get the floor bouncing!
&

KJ Sawka (Pendulum, Conspirator, Destroid)
As a member of some of the top electronic music acts in the world KJ Sawka has made a name for himself as a live musician making waves in the DNB, Breaks and Drumming world. We are thrilled to have him on board to let you witness the spectacle.
with support from:
JD MACK (Opulent Temple)
Mr BROWN (Prophecy Radio)
FARBSIE FUNK (Make It Funky)
And MC FREQUENCY
Video Artistry by NUID
Art Direction: Kyleidoscope Designs
Hosted by: 777, Kyleidoscope Designs, BNE, Mark C, Chris Sommerville
Dylan Slim, Coma Cozer
Flyer by Jay Tripper
DOOR PRIZES T-SHIRTS, FREE MIXES, FREE TRACKS FOR THOSE IN THE BEST FUNKY COSTUMES
Advance Tickets $25 available at:
Ticketweb http://tktwb.tw/WWha3f
Shanti Baba – 546 Queen W- (416) 504-5034
Rotate This – 801 Queen St. W – (416) 504-8447
Play De Record – 357 Yonge St – (416) 586-0380
Soundscapes – 572 College St – (416) 537-1620
GRAB YOUR TICKETS EARLY TO AVOID DISSAPOINTMENT
Bottle service & Group enquiries Guestlist@makeitfunky.ca
Krafty Kuts (Fingerlickin', Instant Vibes) www.kraftykuts.com

Multi award winning DJ Krafty Kuts, started 2011 with an audible bang. Collecting THREE Breakspoll awards (including Outstanding Contribution) has only further cemented his legendary reputation in the global DJ scene. Now with his schedule firmly packed out until next year, things are only going to get crazier for one of dance music's most in-demand and highly revered artists
Effortlessly maintaining hierarchy status in every genre across the breaks, electro, dubstep, drum & bass and hip hop spectrums, Krafty's music represents mash-up in its truest form. His high octane sets never fail to boost his fanbase and his regular teaming with Dynamite MC and obsession with only the biggest new tracks and remixes keep his show fresh and exciting with every minute that passes.
His ability to rock even the most diverse crowd will see him hit every major global festival throughout 2011, and with a Canadian and Asian tour completed and more mapped out in Australia, New Zealand and North America it's clear to see this is set to end as one of his biggest years yet. For anyone a little closer to home, keep your eyes peeled for upcoming 'A Night With Krafty Kuts' events and a university tour plus his second iPhone app which is currently under construction.
Those who know this highly skilled DJ will agree that his incredibly warm nature and passion for the scene sets him apart time after time. This, coupled with an unfaltering ability to deliver the finest, most eclectic and endlessly inspiring beats to his fans, will ensure Krafty continues to sweep the board and inspire a global scene for 2011 and beyond.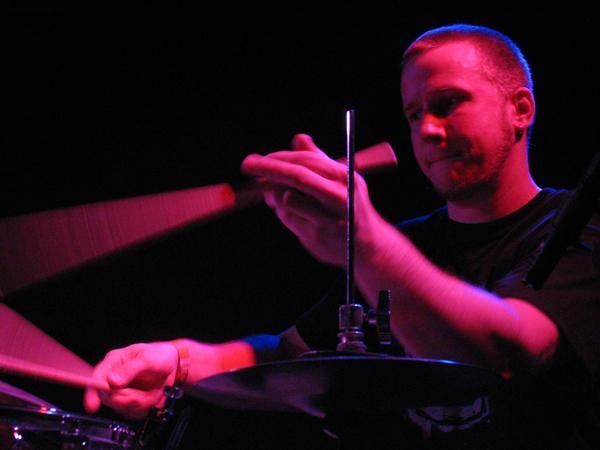 KJ Sawka (Consirator, Pendulum, Destoid) www.kjsawka.com

Seeing Kevin Sawka on the drums is the only way to believe the hype. He can play the most complex of jungle, drum'n'bass and breakbeats utilizing no loops and no extended samples -only his two hands and two feet. If you can catch him in the right moment –live, at a show, or in a studio session- you'll witness him perform each and every 808 bass kick, snare slap, and compressed highhat tick himself, in real-time.
Live and in the dj scene, Sawka is pushing the envelope with his one-man balls-to-the-wall dancefloor show, which now does include a laptop, samplers, loops, and a rack of gear to produce a full-on production -plus projections, live-action cameras, and intelligent. For many live music venue gigs, Kevin also employs a full featuring ethereal female vocals, a keyboardist, and a cellist performing similar material in an in-your-face way that only the reverse-engineering, seemingly bionic Mr. Sawka can bring.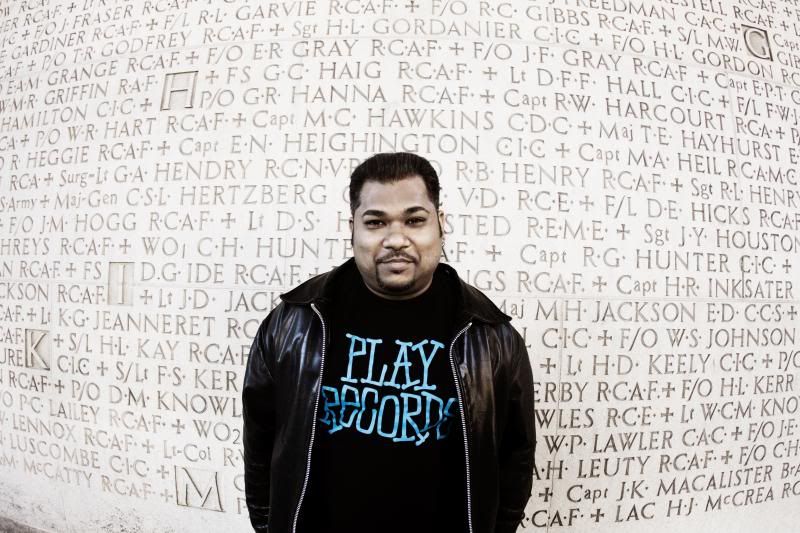 Mr. Brown (Soul In Motion / Heavyweght / Junglist Movement / Prophecy FM)
Mr. Brown has been in the game over 21 years and is a well-respected member of the Toronto Drum n Bass community. Originally playing ska, reggae, and house for the first 8 years then made the transition to dnb; but this early music preference is still transmitted through his sets today. In 2002 he started a production company known as Soul In Motion that throw events that promote the best local and international DnB producers and DJ's around. Mr. Brown isn't just local to Toronto, as he's played all over Canada, the US as well the UK. Not to mention, he's been played alongside talent such as: Netsky, Sigma, Brookes Brothers, Shy FX, Fabio, Andy C, and Break just to name a few. Currently, aside from working on a series of side promotional projects; Junglist Movement and Heavyweight Productions, he is a rotating host on Canada's longest running DnB radio show "The Prophecy. Mr. Brown's high energy behind the decks are pure crowd pleasers and he has no sign of stopping anytime soon.
Mixcloud: http://www.mixcloud.com/djmrbrown2/
Twitter: https://twitter.com/dj_mrbrown
Farbsie Funk (Make It Funky)
DJ Farbsie, founder of the Make It Funky Collective got deep into funk at Mo' Gravy in london in 1996 prior to that his musical influences were formed in the jam band scene traveling to over 400 shows across North America. Having collected thousands of records over the years in 2000 He first stepped up to the decks and the formative years for the Make It Funky Collective began. In the years to follow Farbsie has been spreading the funk gospel and grooving dancefloors across the country. Fusing funky breaks with mowtown sounds, hiphop, calypso, reggae, and classic rock, Farbsie continues to push the boundries of where a dj can take you. Building a journey for the dancefloor that will have you smiling, shouting and singing along as you dance the night away.
Farbsie Funk Down The Rabbit Hole Mix March 2013:
http://soundcloud.com/farbsiefunk/farbsie-funk-down-the-rabbit
JD MACK (Opulent Temple)
A man of many words and mighty basslines, JD Mack has emerged as Toronto's go-to guy for in your face breakbeat funk. He has held a residency at Burning Man's legendary Opulent Temple stage for the last five years, alongside heavyweights like Carl Cox, DJ Dan, Felguk, MANDY and D. Ramirez to name a few. He has rocked dancefloors from Bangkok to Bondi Beach, and if you have been to one of Toronto's many Burning Man themed events of the last few years, chances are you've seen him break beats with the best of them.
Soundcloud:  https://soundcloud.com/jd-mack
Featured mix: https://soundcloud.com/jd-mack/jd-mack-live-at-toronto-decomp
Opulent Temple podcast mix:http://podbay.fm/show/357581543/e/1333171910
MC Frequency
Dave Vance, aka MC Frequency, has been moving crowds and tearing up stages for over a decade now. His smooth flow and discernable delivery has made him a crowd favourite in Toronto among promoters and party-goers alike. In 2001, Freq began writing and performing, heavily inspired by oldschool hip hop. His debut performance at Big Bud's Urban Music Festival helped him quickly gain notoriety.Soon after, he hooked up with some oldschool Toronto veterans and earned a spot as part of the Chronic Sound System crew where he helped run the long-standing CSS Thursdays @ Down One Lounge for over 5 years. Frequency has performed for virtually all of the city's large promoters, hosting sets for Fabio, Benny Page, Phantasy, Rene LaVice, Total Science, Dub Phizix, Marcus Visionary and countless others. A marathon 8 hour long performance at the World Electronic Music Festival (WEMF) earned him a spot on the main stage lineup next to many of Canada's elite veterans.